Kemarin, 26 Agustus 2014, telah diadakan promosi program double degree 2+2 di SMA Muhammadiyah 2 Surabaya. Pada kegiatan tersebut, dari pihak Fakultas Psikologi Universitas Airlangga dihadiri oleh Ibu Endah Mastuti , S.Psi., M.Si., psikolog selaku Wakil Dekan III dan Margaretha, S.Psi., P.G.Dip.Psych., M.Sc. selaku Faculty Ambassador. Kemudian, dari pihak Queensland University of Technology, hadir Mrs. Sharyn Maskell selaku Director International and Marketing Services yang ditemani oleh Ibu Josephine Ratna selaku QUT Engagement Manager, yang merupakan lulusan Psikologi Universitas Airlangga pada tahun 1991.
Dalam kegiatan tersebut, Bu Retha menyampaikan informasi secara umum seputar Universitas Airlangga dan beberapa hal tentang Fakultas Psikologi di Universitas Airlangga. Selanjutnya, Mrs. Sharyn Maskell, yang lebih akrab dipanggil Sharyn ini, menyampaikan beberapa hal tentang Queensland University of Technology, diantaranya adalah fasilitas; school (fakultas); jumlah mahasiswa, baik siswa lokal maupun internasional; kehidupan mahasiswa, khususnya yang berkewarganegaraan Indonesia; dan seputar part time jobs.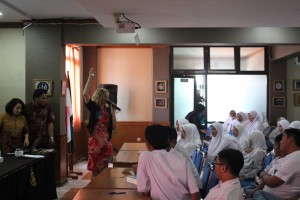 Kegiatan tersebut dihadiri oleh beberapa Guru BK dan siswa kelas XII yang berjumlah sekitar 60 orang yang berasal dari program kelas internasional di SMA Muhammadiyah 2. Siswa siswi SMA Muhammadiyah 2 Surabaya terlihat antusias, terlebih saat sesi tanya jawab, sesekali diselingi senda gurau dari beberapa siswa, sehingga suasana kegiatan tersebut menjadi menarik dan menyenangkan. Kegiatan dimulai pukul 10.10 WIB dan berlangsung sekitar 70 menit.
Beberapa peserta yang hadir menyatakan bahwa kegiatan ini menarik dan memberikan manfaat. Seperti halnya Delisa, menurutnya dia mendapatkan informasi yang bermanfaat karena kelak ia ingin melanjutkan studi ke jenjang perguruan tinggi dengan memilih jurusan psikologi. Lalu, berbeda dengan Delisa yang sudah menetapkan jurusan yang akan ia ambil, Alif Abimanyu mendapatkan informasi tentang Universitas Airlangga yang akan memantapkan pilihannya nanti. Selain itu, ia juga berencana studi di luar negeri namun belum memiliki tujuan negara. Dari kegiatan ini, ia mendapatkan informasi bahwa studi di Australia, khususnya di Queensland ternyata patut untuk diperhitungkan.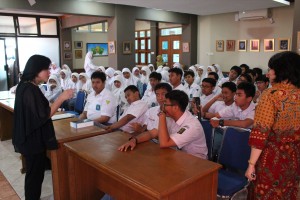 Dari kegiatan tersebut, menurut Ibu Syahida Azmi yang lebih akrab dipanggil Bu Ida ini, banyak sekali manfaat yang dapat diperoleh, diantaranya adalah siswa siswi mendapatkan informasi tentang psikologi. Selain itu, juga diperoleh informasi terbaru tentang keadaan di Universitas Airlangga, khususnya di Fakultas Psikologi yang ternyata saat ini menyelenggarakan program kerjasama double degree 2+2 dengan Queensland University of Technology. Hal tersebut berguna bagi siswa siswi yang hadir karena siswa siswi tersebut mengambil program kelas internasional. Bu Ida berharap agar beberapa siswa siswinya yang berminat di ilmu psikologi dapat diterima di Fakultas Psikologi UNAIR dan juga mampu mengikuti program double degree 2+2 tersebut.