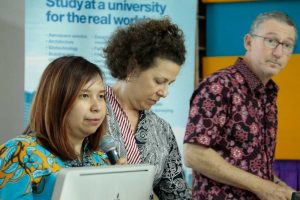 Fakultas Psikologi UNAIR secara kontinyu membangun jaringan pendidikan tinggi internasional bersama universitas dari mancanegara. Minggu malam (25/9) jajaran dari Queensland University of Technology Australia (QUT) tiba di Surabaya. Mereka sengaja datang jauh-jauh dari negeri kanguru untuk kembali bekerja sama dengan Fakultas Psikologi UNAIR.
Pihak dari QUT diwakili oleh Associate Professor Renata Meuter selaku Dekan dari Faculty of Health, school – psychology and counseling, bersama dengan Dr Philippe Lacherez. Perwakilan QUT itu tiba di Fakultas Psikologi UNAIR pada senin pagi (26/9) dan langsung disambut oleh jajaran dekanat.
Queensland University of Technology sendiri adalah partner kerjasama Fakultas Psikologi Universitas Airlangga dalam program Double Degree Bachelor, sehingga perwakilan dari pihak QUT dari tahun ke tahun berkunjung ke Universitas Airlangga sebagai visiting professor. Meskipun baru di tahun ini Dr Philippe Lacherez berkunjung ke Surabaya, Associate Professor Renata Meuter telah berkunjung ke UNAIR tahun kemarin.
Selain untuk membahas tentang masalah program Double Degree Bachelor kedua belah pihak, Associate Professor Renata Meuter dan Dr Philippe Lacherez juga datang ke Fakultas Psikologi UNAIR untuk menjadi dosen tamu. Mereka tidak hanya menjadi dosen tamu di kelas Double degree namun juga pada kelas reguler yang merupakan kesempatan yang sangat berharga bagi mahasiswa Fakultas Psikologi.
Associate Professor Renata Meuter pada hari Senin (26/9) menjadi dosen tamu pada mata kuliah Biopsikologi. Mata kuliah ini adalah pendekatan biologis pada studi tentang psikologi yang mempelajari tentang mekanisme perilaku dan hubungannya dengan fungsi fisiologis tubuh. Pada kesempatan tersebut, Associate Professor Renata menjelaskan tentang Psikolinguistik, yaitu suatu ilmu yang menguraikan proses-proses psikologis yang terjadi ketika seseorang menghasilkan kalimat, memahami kalimat yang didengarnya waktu berkomunikasi, dan bagaimana kemampuan berbahasa bisa diperoleh. Secara singkat psikolinguistik membahas tentang bahasa, kemampuan berbicara, dan komunikasi.
Saat membahas bahasa, Associate Professor Renata juga menjabarkan soal tata bahasa dan bahwa ia terdiri dari Fonologi yaitu pola bunyi, lalu Sintaksis yang bermakna pola kalimat, dan yang terakhir Semantik yang adalah pola makna. Beliau menjelaskan bahwa kajian utama Psikolinguistik bertumpu pada Sintaksis; sehingga, dengan kata lain Psikolinguistik bertujuan untuk menerangkan hakikat struktur bahasa dan bagaimana struktur tersebut diperoleh dan digunakan secara baik dan saat berkomunikasi dan memahami kalimat.
Beliau membahas bagaimana otak kita bekerja ketika kita sedang mendengar kalimat yang diucapkan orang lain atau saat kita memahami sesuatu hal dan juga tentang Bilingualisme.
"Otak kita bekerja lebih keras saat kita memahami sesuatu dalam bahasa lain atau bahasa asing, karena itu saya saat ini berbicara lebih pelan daripada biasanya agar kalian bisa memahami apa yang saya katakan", goda Associate Professor Renata saat membahas tentang Bilingualisme dan melihat bagaimana para mahasiswa terlihat sedikit kebingungan mengikuti kuliahnya yang benar-benar seratus persen berbahasa Inggris.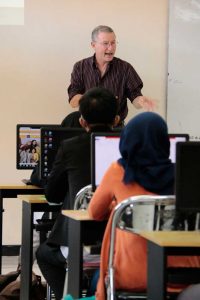 Kuliah hari itu berakhir dengan baik dan tanpa masalah yang signifikan. Selain Associate Professor Renata, Dr Philippe Lacherez juga memberikan ceramah pada esoknya (27/9) tentang mata kuliah Statistika. Kedua perwakilan QUT tersebut akan tinggal di Surabaya sampai hari Jumat esok dan akan terus mengikuti kegiatan-kegiatan di Fakultas Psikologi Universitas Airlangga.