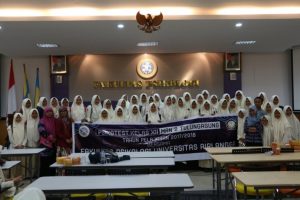 Wednesday, September 6, 2017, Faculty of Psychology Universitas Airlangga warmly welcomed a visit from MAN 2 Tulungagung. There are 115 students from the third grade in MAN 2 Tulungagung and 6 teachers as the students' companions. Beside to increase students' motivation and to give campus life introduction, todays' visit also aims to bring the students attending university aptitude and interest test facilitated by one of applied units in the faculty, Center of Applied Educational Psychology (PTPP).
During the activity, Dr. Dewi Retno Suminar, the Vice Dean III and Dr. Nur Ainy Fardana, the Vice Dean I gave a brief introduction of Faculty of Psychology. They also played some videos show the faculty's profile. During the session, the students of MAN 2 Tulungagung showed their enthusiast. It is shown when they actively introduced themselves and gave their impression about the visit.
This visitation activity actually aims to provide motivation to the students so they will have great motivation to pursue their study into higher level in university. Beside that, this activity also aims to give a real picture to the students about campus life that need to be prepared since they are in high school. Thus, after graduated from high school they will know their targets and accomplish it during their study in university.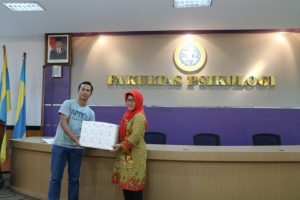 At the end of the activity, the Faculty of Psychology, represented by Dr. Nur Ainy Fardana received a gift given by one of MAN 2 Tulungagung's companion as a form of appreciation. When asked, Dr. Nur Ainy explained that this visit was memorable after seeing the enthusiasm of the students. She hopes that MAN 2 Tulunagung students and teacher get benefits and knowledge after the visit. She added "We are happy to welcome MAN 2 Tulungagung". In addition, she also gave appreciation to the members of Faculty Ambassador who have prepared the acceptance of the visit today.
Writer: Mega Surya Eka Putri (Psychology Student, 2016)
Translator & Editor: Nimas Nastiti