Joint Degree Program is Almost Here
---
Surabaya, 05/16/2014
By Fatih-Faculty Ambassador
Yesterday, on 2014 May 13th, ou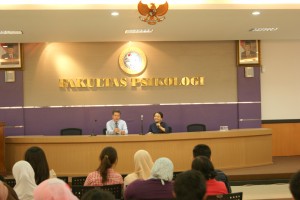 r Faculty is visited by Mr. Jason Leggat. He is a marketing manager of Queensland University of Technology. He manages some regional, South and South East Asia, Middle East, and The Pacific. His visit on Faculty of Psychology Universitas Airlangga is to follow up preparation of joint degree program which started by Miss Renata Meuter visit last week. The schedule of Mr. Jason visit are presentating QUT and student lifestyle, and then some meeting with Airlangga IOP, Vice Dean from each Faculty on Universitas Airlangga, then brief meeting with Faculty of Psychology to combine the curriculum between QUT and Universitas Airlangga and discuss the agreement and Faculty visit to QUT on June.
The logo of QUT says "university for the real world". Among the many reasons underlying the taking of that logo, one of them, Jason said, was to represent their main goal, at QUT, that is to make students learn of real problems that the people around the world faces, and find a solution. "The purpose of education is to make future leaders" Jason said. Another aspect of which QUT takes pride in, is that their graduates are ready to immediately work and have a job, because the management of QUT makes great effort to teach students the things required by industries.
Most of the lecturer in QUT are also practitioners who have career in their respected fields. They evaluate the conditions and dynamics currently happening in their work and take the lesson to class, to be taught to the students. Hence, their curriculum is up to date. It can also be said that what they teach at QUT is very applicative. Moreover, it is designed in their curriculum that students are placed in corporations, offices, or non-profit institutions to gain real experiences in their last semesters.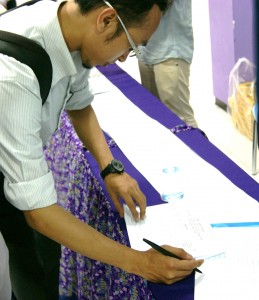 As mentioned, QUT wish prepare students to contribute in the real world. We must realize that in order to part of the community, we require more then just theories and knowledge. We need soft skills, to be able to communicate, to lead, to work in groups and as Jason said, be "people" people. Thus, QUT designed curriculum that includes soft skill developments, and conducts activities that gives students opportunities to enhance their soft skills such as holding conferences, workshops and trainings. Often QUT invites successful people, to speak in their seminar or workshops.
Despite their already grand reputation, be it in Australia or worldwide, QUT constantly thrives to broaden their horizon. Their effort includes, being very active in collaborating with other universities, establishing double degree programs, research collaboration, student and staff exchange, and holding international conferences. Connecting with the world, so to speak.
There are several reasons of their effort to build more and even more connection with other universities, from across the globe. Jason mentioned, there is always an inclination for universities to be global, going international. But, aside from that, QUT make effort to make their students world citizens, part of the international world. And foreign students from various countries are the agents of introducing the global culture and inducing global awareness. Thus, QUT is very welcoming.
Therefore, it is only natural that they have many international students. 7000 (roughly 18 %) of their 25000 students came from another country. Given that situation, QUT developed programs that can accommodate those foreign students. One of it is the international college, which is a facility that can help international students adapt and meet the requirements of studying in QUT such as a comprehensive language skills in oral and writing. The international college provides training and workshops that enhances language skills, among many other things. So, are you ready to join the joint program between our Faculty and QUT ? (Fatih – Fac. Amb.)