Joint Degree Program
---
07/05/2014
by Fatih
Faculty of Psychology Universitas Airla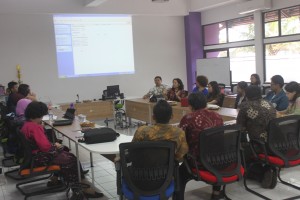 ngga is opening the door to international cooperation for mutual benefit. Faculty of psychology Universitas Airlangga have a joint degree program with School of Psychology and Conselling, Faculty of Health Queensland University of Technology – Brisbane Australia. International cooperation will boost the quality of education our psychology, will also provide added value to our undergraduate, so they will have better career opportunities.
Joint degree program means that student would have experience of studying both in Faculty of Psycholoy Universitas Airlangga and School of Psychology and Conselling QUT and by that processess they could earn 2 degrees ( Sarjana Psikologi from Faculty of Psycholoy Universitas Airlangga and Bachelor of Psychology from School of Psychology and Conselling QUT). The total period of the program is 4 years (2 years at Universitas Airlangga, and 2 years at QUT).
Therefore, today, 2014 6th may, our faculty is visited by Miss Renata Meuter, head of school of psychology and conselling in faculty of health, QUT.The School of Psychology and Conselling of QUT has about 650 students in their undergraduate program and about 80 in their Master program. To get admitted into their Undergraduate and Master program, one must go through a very tough competition. Last year there were 250 applicants who wish to enter their Master program. Furthermore, the applicants weren't just coming from Queensland. Students are applying from all over Australia. Not to mention the international students.
At QUT, writing ability is very crucial. Even some Australian native students need guidance in order to make scientific literature. Thus, proficient language skills, not only verbally, but in writing as well, are required of foreign students who want to apply to this double degree program. Due to the complexity and difficulty of making scientific writing, one must be very skillful. Because every word must be calculated, not to mention the word by word we use should not be plagiarizing someone else.
Miss Renata, personally, believes psychology is the science of the extremely broad in scope, because it has a scientific basis , but on other hand active in the world of social and practical matters. Thus, the students who studied psychology can have a job in almost any field. So to be honest, the students do not have to worry.
The more interesting part is: once they have experienced the Master program, which is infested with practical studies, such as conducting experiments and doing research, a lot of students, grew interest in research. Miss Renata quoted one of the saying "it turns out this research thing is quite something. I'm going to pursue this research thing and take PHD program so I can be a researcher as well as a psychologist". It turns out that being a psychologist is not the only option for psychological students.
One of the things that gives the students great opportunity to explore the possibilities of psychological career is QUT have course that focus on improving public health, both locally and globally. And then QUT health clinic for a faculty of health, which is located on campus, offers a variety of training by an accredited health professional which using equipment quality industry. (Fatih- Fac.Amb)