Thai Cultural Camp merupakan agenda resmi Universitas Chulalongkorn yang diadakan setiap tahun dan penyelenggaraan ke-15 ini bertepatan dengan hari jadi ke-100 tahun Universitas Chulalongkorn sebagai tuan rumah. Acara ini di buka dengan Exhibition and Miniconcert "Royal Tribute to His Majesty King Bumibol Adulyadej" oleh Prof. Dr. Kovit Kantasiri dan rekannya.
Kegiatan ini diikuti oleh mahasiswa-mahasiswi dari Indonesia, Malaysia, Thailand dan Taiwan. Dalam kesempatan ini, delegasi Indonesia yang diwakili oleh 4 Mahasiswi Fakultas Psikologi Universitas Airlangga (Ahidatus Syaifah '14, Virginia Sukma '13, Dyah Rizka '13 dan Farah Rusydah '13 sukses mementaskan Tari Saman dari Aceh dengan sangat memukau.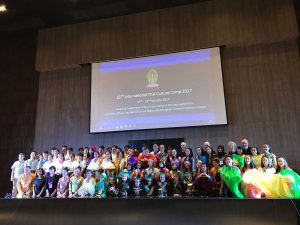 Para Mahasiswa-Mahasiswi Indonesia, Malaysia, Thailand, dan Taiwan
Penampilan Tari Saman Aceh oleh para mahasiswi Fakultas Psikologi
Kegiatan ini diselenggarakan pada tanggal 18-23 Januari 2017 di Faculty of Fine and Applied Arts Universitas Chulalongkorn Saraburi Campus. Selama 6 hari tersebut kegiatan terdiri dari Public Performance, Workshop Budaya, dan Final Group Presentation. Di sesi Workshop Indonesia, delegasi Psikologi UNAIR mengajarkan beberapa gerakan yg khas dari Tari Saman kepada semua delegasi di acara tersebut. Semua delegasi mengikuti gerakan kami dengan sangat baik.
Semoga apa yang dilakukan oleh keempat mahasiswi ini dapat mengharumkan nama Indonesia di kalangan internasional dan menginspirasi mahasiswa-mahasiswi psikologi UNAIR lainnya untuk terus mengembangkan bakat dan kreativitas yang dimiliki. (-Riz)
Sesi workshop dari Indonesia untuk mahasiswa-mahasiswi internasional