Sejak ditemukannya Autisme pada tahun 1940an hingga saat ini, penelitian dan pengetahuan tentang Autisme dan penanganannya terus berkembang. Dari tahun ke tahun prevalensi anak dengan Autisme semakin bertambah sehingga pengetahuan dan keterampilan dalam penanganan anak dengan autisme yang tepat semakin dibutuhkan.
Pada tahun 2013, 3 orang dosen Fakultas Psikologi Universitas Airlangga mendapatkan kesempatan untuk melakukan internship Manajemen Anak dengan Autisme selama 6 minggu di Early Intervention Center, Autism Association of Western Australia (AAWA), Perth Australia. Pengetahuan dan ketrampilan yang diperoleh selama internship diseminasikan dalam kegiatan perkuliahan, penelitian dan pengabdian masyarakat, dan hingga saat ini Penanganan Autisme merupakan salah satu unggulan yang dikembangkan oleh Fakultas Psikologi Universitas Airlangga.
Sejak tahun 2014, Fakultas Psikologi Universitas Airlangga menyelenggarakan program Pengabdian Masyarakat berupa Pelatihan Penanganan Anak dengan Gangguan Spektrum Autisme, yang ditujukan untuk mengembangkan pengetahuan dan keterampilan guru, terapis, tenaga medis dan professional lain yang menangani Anak dengan Autism. Kegiatan ini dilakukan setiap tahun dengan sasaran dan lokasi yang berbeda-beda. Tahun 2014 peserta difokuskan pada guru-guru sekolah inklusif dan sekolah khusus milik pemerintah di Jawa Timur. Peserta pelatihan pada tahun 2015 sudah meluas, tidak hanya mencakup guru namun juga sejumlah terapis dan tenaga kesehatan dari berbagai instansi di Jawa Timur, karena adanya kebutuhan yang besar untuk memahami tentang autisme. Pelatihan penanganan Autisme 2016 sudah menjangkau peserta di luar Jawa Timur, bahkan di Luar Pulau Jawa. Pelaksanaan kegiatan Pelatihan Penanganan Anak dengan Gangguan Spektrum Autisme yang dilakukan pada tahun 2017 berbeda dengan tahun-tahun sebelumnya. Pada tahun 2017 kegiatan pelatihan diberikan di 2 daerah di Jawa Timur, yang prevalensi anak dengan autisme cukup tinggi, ada keterbatasan akses informasi dan ada komitmen dari pemerintah daerah setempat. Bekerja sama Dinas Pendidikan Provinsi Jawa Timur, teridentifikasi 2 daerah yang menjadi sasaran kegiatan Pengabdian Masyarakat ini, yaitu: Madiun dan Banyuwangi.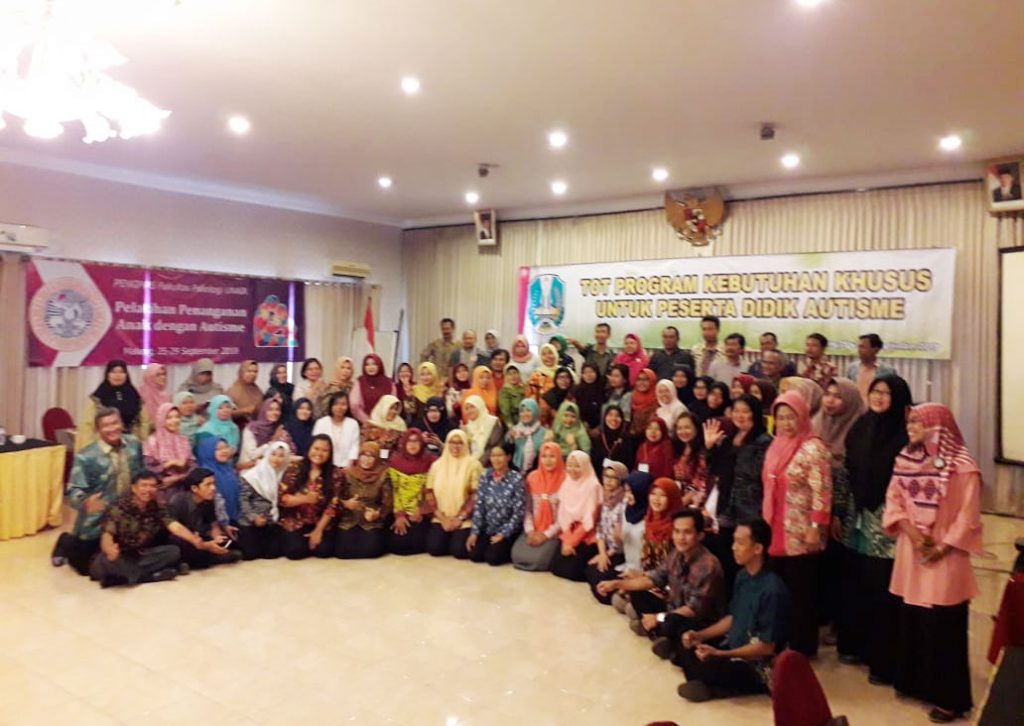 Pada tahun 2018 Pengmas Penanganan Anak dengan Autisme dilakukan kembali, yang pelaksanaan dan pendanaannya dilakukan bekerjasama dengan Dinas Pendidikan Provinsi Jawa Timur. Kegiatan pengmas ini bertajuk Training of Trainer Program Kebutuhan Khusus: Penanganan Anak dengan Autisme untuk Guru SLB dan Guru Sekolah Inklusi se-Jawa Timur. TOT ini diikuti oleh 76 peserta dari 38 kota/kabupaten, yang diseleksi dari 114 peserta Bimbingan Teknik Pengembangan Kemampuan Komunikasi pada Anak dengan Autisme se-Jawa Timur pada akhir tahun 2017. Pelatihan ini dilaksanakan pada tanggal 25-29 September 2018 di Hotel Pelangi, Malang.
Training of Trainer Penanganan Anak dengan Autisme ini bertujuan untuk memberikan informasi terbaru berkaitan dengan karakteristik gejala autisme secara komprehensif, serta membekali peserta dengan strategi penanganan anak dengan autisme dengan menggunakan pendekatan TEACCH yang telah terbukti secara empiris (evidence based) dapat mendukung berkembangnya perilaku fungsional pada anak dengan autisme. Pelatihan yang diarahkan pada pengembangan pengetahuan dan keterampilan peserta dalam penanganan autism ini dilaksanakan dengan metode ceramah, roleplay, simulasi dan praktik pembuatan planning matrix, alat bermain dan independence work system.