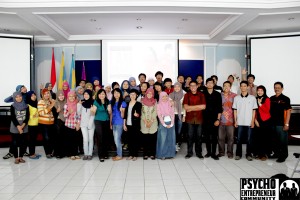 Pada 15 Juni yang lalu, telah diadakan campus talk di Aula Fakultas Psikologi Unair. Acara yang  diadakan oleh Psychology Entrepreneur Community (PEC) Universitas Airlangga bersama PT. Santos Jaya Abadi ini bertujuan untuk meningkatkan soft skill mahasiswa agar nantinya mereka dapat lebih sukses saat bekerja nanti. PEC sendiri berdiri pada bulan lalu dan dibentuk sebagai wadah untuk menyalurkan minat para mahasiswa psikologi dalam bidang kewirausahawan.
Acara ini diawali dengan sambutan oleh Bapak Afif sebagai perwakilan dari dekanat, Ibu Eli sebagai pengurus PPKK, dan Ambi sebagai ketua BEM. Acara kemudian dilanjutkan dengan penampilan profil perusahaan oleh PT. Santos Jaya Abadi. Setelah itu, acara dibuka dengan materi pertama oleh Ibu Agnes yang bertajuk "Generation Gap and Workplace".  Dalam materi ini dipaparkan bahwa bila kita ingin sukses dalam tempat kerja, kita harus lebih mengenal orang-orang di lingkungan kerja kita. Tidak dapat dipungkiri kita akan bekerja dengan orang yang berbeda suku, asal, maupun usia. Oleh karenanya, ada baiknya pula jika kita mengetahui karakteristik seseorang berdasarkan era dimana seseorang itu lahir. Maka dari materi ini, kita mendapatkan pengetahuan tersebut serta bagaimana menggunakan pengetahuan tersebut untuk dapat berkomunikasi lebih baik dengan orang yang berasal dari generasi berbeda.
Agar peserta tetap semangat dalam mengikuti campus talk ini, pemateri memberikan games kecil sebelum melanjutkan materi berikutnya. Pada games ini peserta diajak untuk mengucapkan "selamat pagi" ke peserta lain sebanyak-banyaknya. Games ini berhasil membuat peserta bersemangat kembali sehingga dapat mengikuti seminar dengan baik. Materi berikutnya adalah "Personal Branding". Di materi ini peserta dibekali pengetahuan tentang bagaimana kita "menjual" diri kita kepada orang lain. Tujuannya adalah agar kita mengetahui potensi diri dan menggunakan potensi tersebut sebagai ciri khas tertentu yang melekat pada diri kita dan membuat diri kita unik.
Materi terakhir adalah "How to be a Presentation God". Pada materi yang diberikan oleh Bapak Viktor ini, dibahas mengenai tips and trick tentang bagaimana membawakan presentasi dengan baik. Agar presentasi kita bagus dan berkesan, hal yang harus kita perhatikan adalah menjaga eye contact dengan audience serta membuat klimaks dari presentasi kita. Akhirnya, setelah semua materi diberikan, campus talk ini diakhiri dengan foto bersama seluruh peserta.
Semoga acara seperti ini terus diadakan, karena tidak hanya kemampuan akademis saja yang diperlukan, namun soft skill juga sangat berperan penting bagi kesuksesan kita nantinya. Mengingat kemampuan ini bukanlah kemampuan yang dapat diperoleh dengan mudah begitu saja, namun perlu diasah dan dilatih secara terus menerus agar kita bisa menjadi pribadi yang lebih unggul nantinya. (BPA/Faculty Ambassador)