Setiap tahun Fakultas Psikologi Universitas Airlangga memperingati hari jadinya. Pada hari Selasa tanggal 12 Februari 2019 Fakultas Psikologi Universitas Airlangga memperingati hari jadinya yang ke-36 tahun. Berbagai rangkaian kegiatan telah dipersiapkan dengan matang untuk memperingati Dies Natalis ini agar berjalan dengan meriah.
Meski cuaca sedikit tidak bersahabat dengan gerimis manis menemani, acara tetap berjalan dengan meriah tanpa mengurangi semangat dari seluruh Civitas Akademika Fakultas Psikologi Universitas Airlangga. Tepat pukul 06.30 WIB rangkaian acara yang pertama dimulai, dengan kegiatan Senam Sehat yang diikuti oleh seluruh dosen, karyawan, mahasiswa psikologi serta tamu istimewa yaitu 3 inbound student dari Asia University of Taiwan dan 10 mahasiswa program student exchange credit transfer dari Universiti Utara Malaysia (UUM).
Kemudian acara dilanjutkan dengan adanya sambutan dari Dekan Fakultas Psikologi, yakni Dr. Nurul Hartini, M.Kes., Psikolog. Dalam sambutan tersebut beliau menyampaikan tema serta tujuan dari peringatan Dies Natalis ke-36 Tahun ini.
"Hari ini kita merayakan agenda tahunan yakni Dies Natalis yang ke-36 dengan tema Building a Workplace Learning Culture, serta mari kita budayakan belajar di tempat kerja kita. Belajar itu adalah dengan membaca, membaca dan membaca, mulai dari membaca buku hingga membaca fenomena yang ada di sekeliling kita." Jelasnya.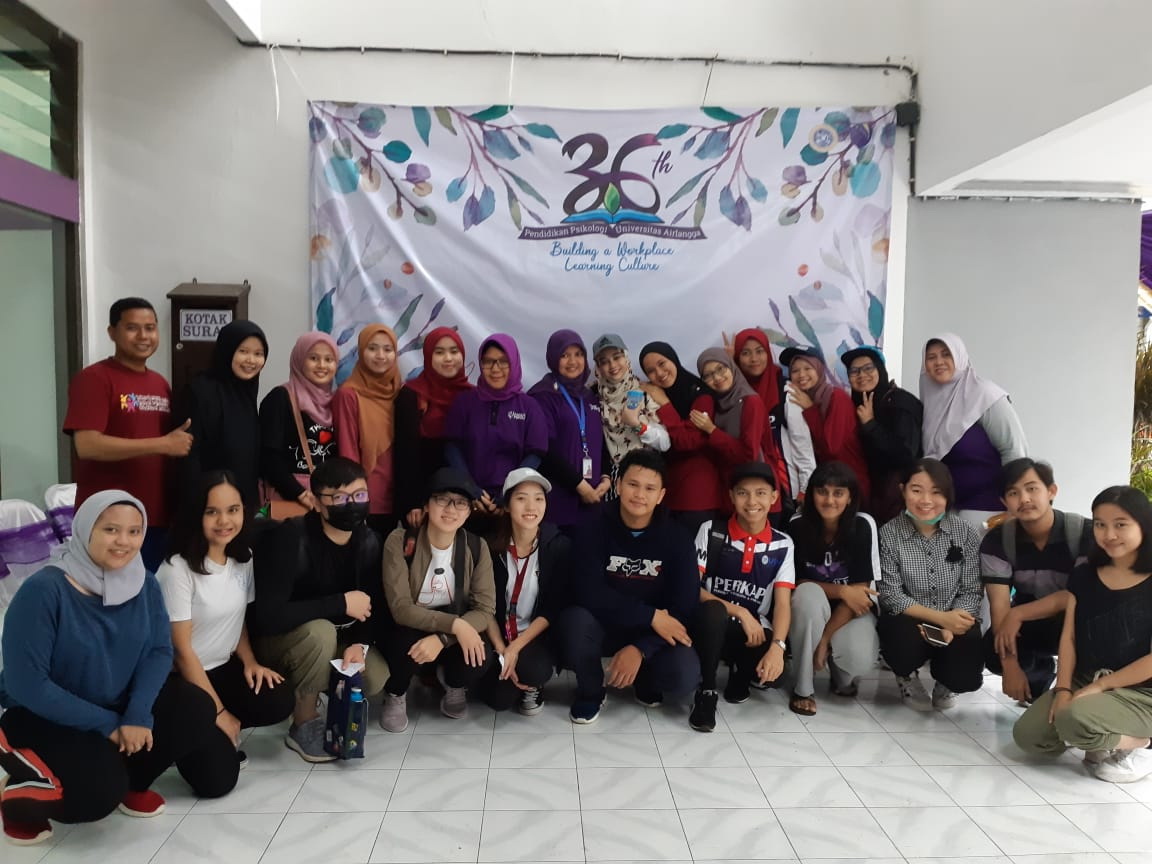 Foto bersama mahasiswa Asia University of Taiwan, mahasiswa Universiti Utara Malaysia, Dekan, Wadek 1, Wadek 3, dan buddies (mahasiswa pendamping mahasiswa asing selama di Fakultas Psikologi)
Ditemui di lokasi yang sama, Ketua BEM Fakultas Psikologi, Audi Ahmad Rikardi menyampaikan bahwa acara Dies Natalis ini adalah untuk memperingati hari ulang tahun Fakultas Psikologi yang sudah berusia 36 tahun, perlu diadakan supaya kita semua tahu bahwa Fakultas Psikologi sudah 36 tahun sekaligus sebagai wujud syukur bahwa Fakultas Psikologi itu sudah berdiri cukup lama.
"Harapan dari saya mudah-mudahan Psikologi Universitas Airlangga benar-benar kembali ke marwahnya menjadi psikologi yang terbaik di Indonesia, bisa berkontribusi kepada masyarakat dan juga bisa memasyarakatkan ilmu psikologi itu sendiri." Ungkapnya.
Puncak acara diakhiri dengan pembagian hadiah. Semua peserta, baik dosen, karyawan, dan mahasiswa termasuk para mahasiswa asing, berkesempatan untuk mendapatkan berbagai hadiah yang menarik hingga hadiah utama TV LED untuk bisa dibawa pulang ke rumah masing-masing. Secara keseluruhan acara peringatan Dies Natalis Fakultas Psikologi Universitas Airlangga berhasil membuat seluruh peserta merasa senang, seperti pendapat yang disampaikan oleh beberapa Mahasiswa Fakultas Psikologi yakni Desi dan Rivenno
"Acara hari ini seru dan senang karena kebetulan kita berdua mendapatkan doorprize. Yang paling suka sih soalnya ada senamnya, kita sebagai anak kos pasti jarang olahraga, terus bisa dapat sarapan gratis, kumpul bareng sama seluruh KM Fakultas Psikologi. Harapannya sendiri buat Fakultas Psikologi, semoga makin jaya, semakin maju, semakin dikenal masyarakat, Semakin bermanfaat bagi nusa, bangsa dan agama. Serta semoga Fakultas Psikologi Universitas Airlangga semakin jadi yang terdepan dan terbaik. Walaupun gedungnya paling belakang tapi kualitasnya yang terdepan." Jelasnya.
Selamat bertambah umur Fakultas Psikologi tercinta! Teruslah menjadi pionir Psikologi yang terbaik di Indonesia.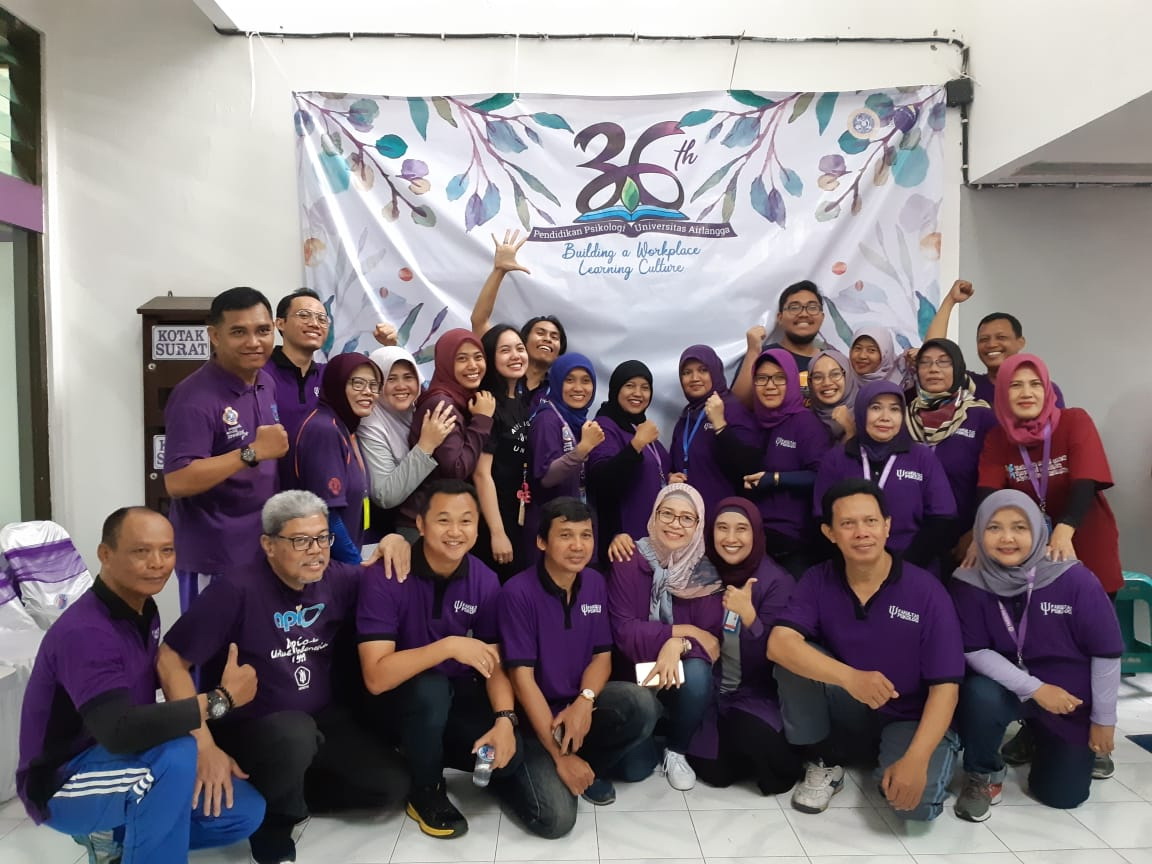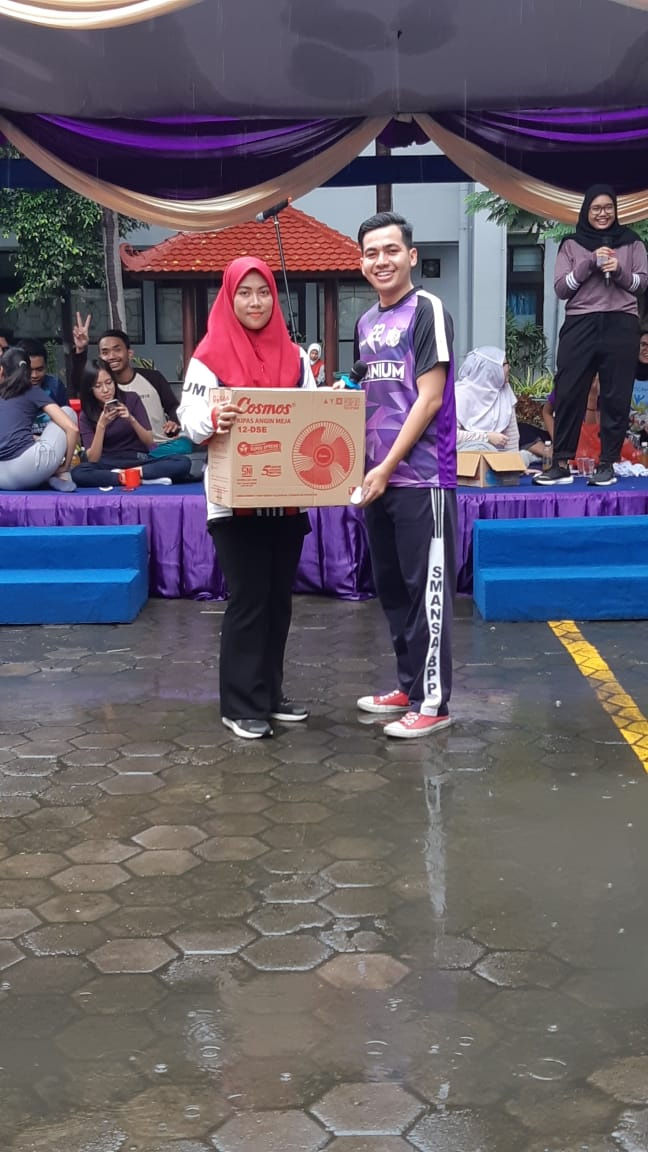 Salah satu peserta student exchange dari UUM mendapatkan doorprize
~Dewi Retno & tim Insight