On February 26th 2019, four students of the Universitas Airlangga Faculty of Psychology visited Kumamoto University in order to join the Kumamoto 2019 Spring Program. During the 10 days program, they did not just experience learning in a wholly different environment, but they also got to learn about Japanese historical and political, cultural, and myths and legends.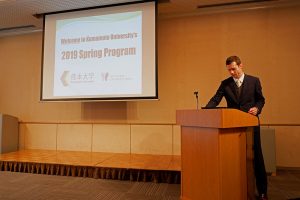 On this remarkable occasion, Arini (2017), Bunga (2016), Jessita (2016), and Sonia (2017) went over to see the largest active volcano in Japan that happens to be the place where lots of research are done, Mount Aso. Surely, the topic of volcano mountain and the formation of the caldera are not in any of the Psychology's field. However, the four students of Psychology of Universitas Airlangga admitted to still get important knowledge. For instance, one of the lectures which allude with Psychology is regarding "Minamata Disease" which taught by Joshua Rickard, PhD. The disease which grew to be a sensitive topic in Japan has sparked the four Psychology students' interest in the psychological effect endured by the Minamata victims, and the fact that not many researchers are making research upon the particular topic.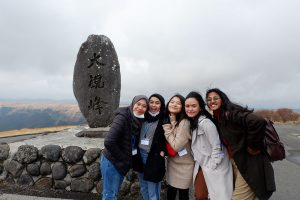 Additionally, they get the opportunity to try Yukata, the Japanese garment usually worn in the summer. Followed by the tea ceremony, one of the important ritual that represents purity, tranquillity, respect, and harmony. The four students from the Faculty of Psychology of Universitas Airlangga admitted being utterly happy to have experienced many Japanese cultures firsthand. "There's no way you could experience the tea ceremony and Yukata dressing if you were here for a vacation (not to participate in the Kumamoto 2019 Spring Program)," stated one of the students.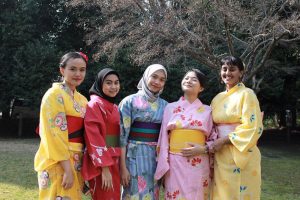 ~Bunga Sakinah