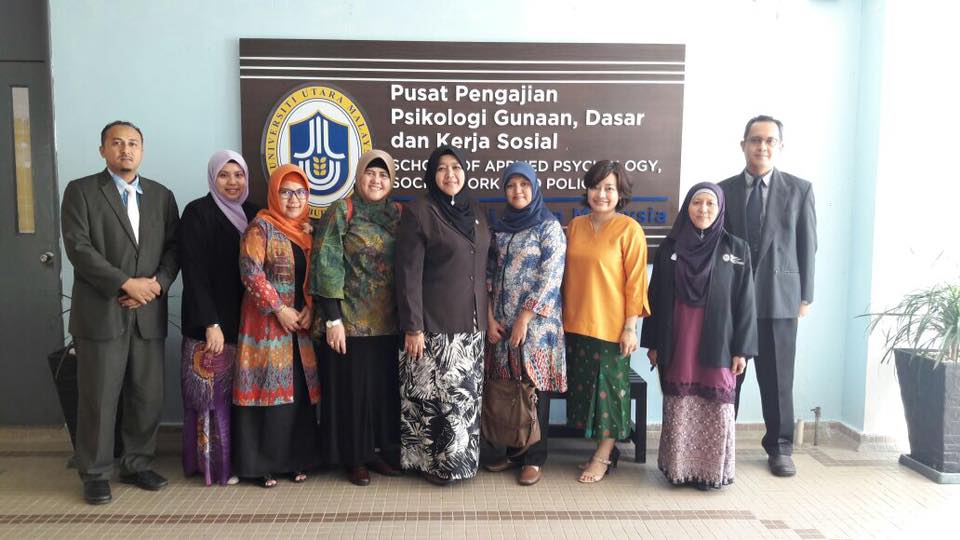 Sekali lagi, fakultas psikologi Universitas Airlangga telah membuktikan diri mereka dan menjalin kerjasama dengan universitas wilayah ASEAN. Selasa, 6 September lalu, perwakilan dari fakultas psikologi  yang terdiri dari dekan fakultas psikologi, Dr. Nurul Hartini, M. Kes., Psikolog, Ibu Margaretha, S.Psi, P.G.Dip.Psych.,M.Sc, Dr. Dewi Retno Suminar , M.Si., Psikolog, dan Dr. Nur Ainy Fardana N., M.Si., Psikolog telah mengunjungi School of Applied Psychology, Social Work and Policy, Universiti Utara Malaysia di Sintok, Kedah Darul Aman, Malaysia. Kedatangan mereka disambut dengan meriah oleh pihak UUM dan mereka ditemani menuju Anjungan Tamu sesaat setelah tiba. Anjungan Tamu adalah seuah bangunan yang dibuat khusus untuk menyambut para tamu universitas maupun fakultas dan bangunan tersebut dibangun dengan maksud untuk menjabarkan branding universitas mereka yaitu Green Campus kepada para tamu.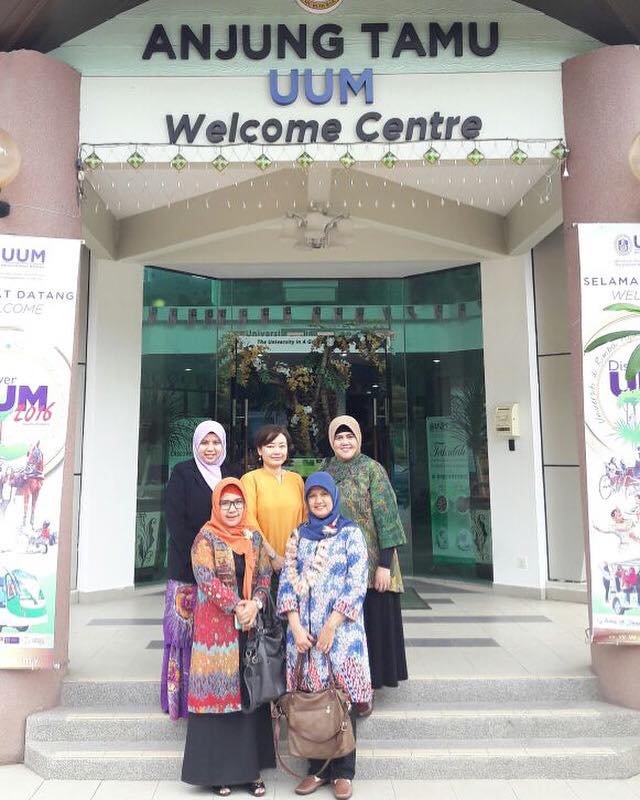 Kunjungan ini bertujuan untuk membahas kemungkinan kedua universitas dalam berkerja sama. Dekan dari School of Applied Psychology, Social Work and Policy, Universiti Utara Malaysia, Assoc. Prof. Dr. Noor Azniza Ishak memimpin pertemuan hari itu dengan beberapa delegasi dari UUM lainnya dan tentunya delegasi dari Unair. Pada akhirnya, kedua pihak mencapai kesepakatan untuk bekerjasama dalam kegiatan mobilitas akademik. Point komitmen pertama yang dibahas di pertemuan tersebut adalah kerjasama dalam mengadakan program Outbound-Inbond, yang disetujui untuk melakukan pertukaran pelajar sebanyak 10 orang dari masing-masing universitas untuk satu semester pada semester depan. Kedua pihak juga setuju untuk melakukan cost-sharing atau saling menanggung biaya akomodasi dari mahasiswa yang melakukan exchange dimasing-masing universitas. Hal tersebut juga berarti bahwa mahasiswa tidak perlu membayar apapun di Universitas dia exchange, dan hanya perlu memikirkan soal biaya hidup. Untuk biaya kuliahnya, mereka hanya perlu membayar UKT di universitas asal mereka seperti kuliah biasa.
Ditambah lagi, perwakilan dari UUM mengakui bahwa pendidikan psikologi di fakultas psikologi Unair lebih maju daripada mereka, dan karena itu mereka meminta kunjungan professor dari Unair untuk mengajar di universitas mereka dengan periode minimal satu semester. Perlu diketahui bahwa pihak UUM terkenal dalam program sarjana konseling dan social work; namun, mereka tetap meminta kerjasama dari fakultas psikologi Unair dalam mengembangkan program psikologi mereka, khususnya dalam pembelajaran dan kurikulum untuk sarjana psikologi.
UUM juga meminta untuk melakukan program Double Degree dengan Unair di tingkat sarjana. Mereka berencana untuk mendukung mahasiswa mereka untuk mendapatkan pengalaman belajar di Universitas Airlangga untuk beberapa tahun. Lalu, poin terakhir yang dibahas dalam pertemuan tersebut adalah rencana kerjasama dalam penelitian dan publikasi dengan akademisi Unair pada research, penulisan buku, dan lain-lain.
UUM terletak di Kedah, Malaysia, yang terkenal sebagai tempat yang biaya hidupnya tidak mahal. Universitasnya juga menyediakan akomodasi In-campus untuk para mahasiswa (dengan kapasitas lebih dari 1500 mahasiswa). Selain itu, Kedah sangat dekat dengan perbatasan Thailand, sehingga Anda bisa melakukan travel antar negara. Jadi, apa yang kamu tunggu? Siapkan diri Anda dan ikutilah program mobilitas akademik mendatang antara Universitas Airlangga dengan Universiti Utara Malaysia!