On 23rd and 24th of April last week, there were bazaars of seminars that were held in the faculty of Psychology, University of Airlangga. The event was organized by the student board and had five seminars in total. Each seminar of course has different theme and speaker and each of them were representation of four departments and student board that existed in faculty of Psychology. If you didn't know already, the faculty of Psychology of University Airlangga is divided into four departments to focus on one of the several way to comprehending psychology; they are department of developmental psychology, social psychology, industrial and organizational psychology, and clinical psychology. Each one of them studied psychology in different approaches and that was why the seminars were held separately; to discuss each different theme with their respective approaches.
Department of Education and Developmental Psychology
Department of developmental psychology, social psychology, and the student board held their seminar on the 23rd April, last Saturday. Department of developmental psychology brought out the theme "Childcare for children with Autism Spectrum Disorder: Learn the characteristic and optimize the potential" and has various speakers from autism therapist, parents of children with autism, and lecturer from faculty of psychology. The seminar was started with explanation of the definition of autism disorder itself. Autism is a developmental disorder of the brain that induced problems in development, especially communicating or interacting with other people, and difficulty to respond appropriately to the environment. Although there are a lot of efforts to cure and tend to the sufferer, autism is a characteristic and in fact, it can't be cured. Giving medicine and tending to the sufferer will only help them to adapt with their environment. It was then stated that autism is defined as a spectrum disorder because of its influence which vary on each individual.
Children with autism disorder usually have unusual sensitivity on their sensory device, whether it is acuity in auditory, olfactory, visual, vestibular (difficulty to stay put), or proprioceptive (need for pressure on certain body parts). They also tend to have allergies on some food so it is important to consult with doctors. It was elaborated in the seminar that to handle children with autism disorder, it is substantial for not only parents and teacher to tend and handle them, but also people in their environment are supposed to help them adapting with their environment. It was also mentioned that there are 2 approaches on handling autism disorder; they are ABA (Applied Behavior Analysis) and TEACCH (Treatment and Education of Autistic and Related Communication Handicapped Children) which is more commonly used than ABA. Although those treatments are given by teachers in special schools for handicapped children, it is very important for the parents to understood and apply the treatment at home.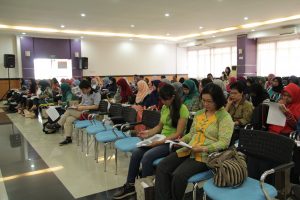 In joining department of developmental psychology's seminar, we won't only get to comprehend on autism spectrum disorder more deeply, but we will also get extra points on how to handle children with autism disorder, and also tips and tricks that we won't get anywhere else.
Department of Personality and Social Psychology
Department of social psychology held the seminar with "Increasing people's psychososial's capacity in crisis" as the theme. The seminar invited Drs. Sudaryono., SU, Dra. Woelan Handadari, M.Si, and Mister Achmad Chusairi, S.Psi., MA as the speakers. Each one of them elaborates on how to identify crisis situations and its psychosocial's effect on individuals, Mental health in crisis context and how to handle it, and also long-term psychological effect after calamity respectively.
The seminar was held to give common participant knowledge about crisis situation and the psychosocial's effect on individual, also concerning mental health with concept and basic skill about mental health in crisis context. The seminar bestows common health workers knowledge concerning mental health to respond faster on psychological trauma in critical situation; and also to give participant skills on identifying long-term psychological effect after calamity.
Student's Executive Board (BEM)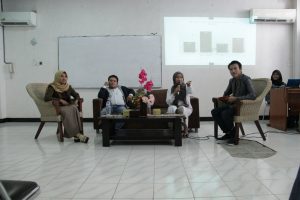 The seminar that was held by the student board was presented with "Do you believe in common sense?" as the theme. The seminar discussed about how nowadays there are many posts in internet that mentioned or explained psychological context that have unclear sources, and their tendency to use common senses than scientific contexts. It is a fact that a lot of Indonesian citizen has interest on learning their character and personality, and it is known widely that psychology is a major that studies on those traits. That fact is used by some people to get popularity, followers in social media, and even money with manipulating them on believing data and researches that have no real sources or experiment while it is actually only a common sense and is said to be a psychological research. Common people will usually believe them and even some of them are influenced and changed their personality.
Mister Dimas Aryo Wicaksono, S.Psi., M.Sc. and Miss Ike Herdiana, M.Psi., Psikolog as lecturer in faculty of Psychology University of Airlangga have one vision relating this issue. They agreed that on reading articles from the internet, we should be more careful and selective. Every research or statement should have credible sources and Miss Ike adds that to be labeled as a valid research there should be scientific experiment that is done many times and with different culture object.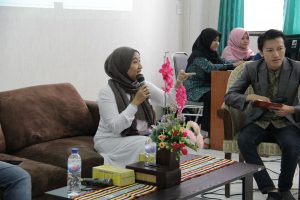 Therefore, on this 21st century where everything can be accessed with ease, we should be more selective on filtering information regarding anything. Don't trust anything easily just because they include that there is a psychological research on the fact, but search for the real resources and only choose information that gives you positive impacts.
Department of Clinical and Mental Health psychology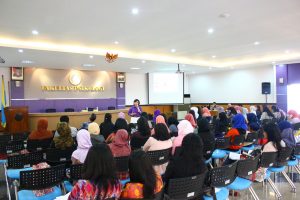 The second day on 24th April last Sunday was department of clinical psychology and industrial and organizational psychology's turn to hold their seminar. The rampant cases on child abuse in Indonesia makes the department of clinical psychology carry "Prevent child abuse" as their topic. Through this seminar, it is expected that people will have the same level of comprehension concerning the cause and effect of children abuse, and also how to prevent it. The seminar was leaded by Miss Margaretha, S.Psi, P.G.Dip.Psych.,M.Sc. and Dra. Woelan Handadari, M.Si., Psikolog and started with the quote "Children born into this world needed love without violence". Indeed, even in psychological point of view it is very important for children to receive love and acceptance from their parents and environment. And when they don't receive those, it is possible there will be deviation in mental development or personality.
The after effect of abuse can be long-termed, medium-termed, and short-termed; it varies on individuals. Abuse can also affect children's psychological, physical, and social state, and it is very saddening that the culprit of abuse can be anyone whom interacts with the children; it can be their own parents, teacher, friends, and anyone in their environment. But there are also situational and optional situation for culprit to do abuse. Situational situation is when the culprit does not have sexual interest in children but the situation makes the culprit sexually abuse them; however, the optional situation is when the culprit is already sexually interested in children.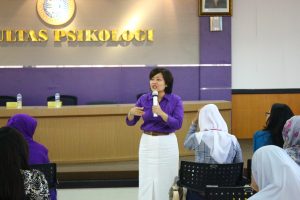 Because the culprit can be anyone in the environment which the children live, it is a substantial thing for parents, teacher, and people who related with the children to understand how to prevent children abuse to happen, how to handle things when the abuse has already happened, and where to seek for help; whether it is help from law advocate or psychological service. Comprehending the steps mentioned above will make parents or teachers maintain their calm and with a cool head handle the problems. It is also necessary for parents to teach their children concerning types of touch given to them. Whether it is appropriate, perplexing, or bad touches, the children needed to know so they can respond appropriately to the touches. For example if strangers touch them in inappropriate places, they can scream and cries for help.
When abused children can adapt to their surrounding again after their stress of being abused, it is called resilience. Resilience will be attained when the children receive emotional validation, support on self development, and regained self control.
Thus, makes it very significant for parents and teachers to understand the basic of how to prevent abuse and handle them when they happened, also on how to support abused children to move on and continue their lives normally.
Department of Industrial and Organizational Psychology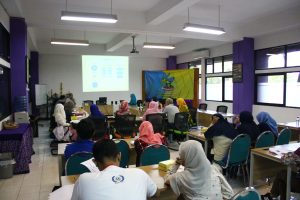 This department uses the theme "Precise strategy to determine your career" and was inviting Mister Samian, M.Psi., Psikolog as the speaker. With this seminar, we will be invited to identify our passion and our skill to choose the right choice of career for ourselves; career choice which suited our passion and skill will help us develop our career optimally.
Mister Samian stated in the seminar that someone should already determine their career before actually looking for it. The term "let it flow" should be erased from our mindset because it will be easier for people who has already chose their path than those who don't on pursuing their career. The process of determining career was also elaborated; it was to start with choosing the aim of pursuing a career. Someone should start with this step because purposes on pursuing a career vary in individuals. The second step was to identify our interest and skill, and then explore or get to know the career that we wanted to take. And the last step was to develop ourselves to suit the career that we choose. In doing the process, we will develop ourselves into the person that our wanted career needs, and we will likely to be more successful in that field than those who don't and are still clueless about what career path they should take.
On the importance of choosing our career path before anything else, please keep in mind that we should follow the career path that we wanted to take; with doing that, we will be able to enjoy our career and develop our skills comfortably.
The seminar also provided a one hour discussion session, so the audiences could ask to their heart's contents. There are also workers who attended the seminar and they said the seminar was very beneficial for them because they can consult to the speaker and they all seemed to be satisfied with the answers they got. Besides the workers, it was a beneficial seminar for students whom participate too; because they could get tips on how to determine their career path.
(By: Faculty Ambassador)