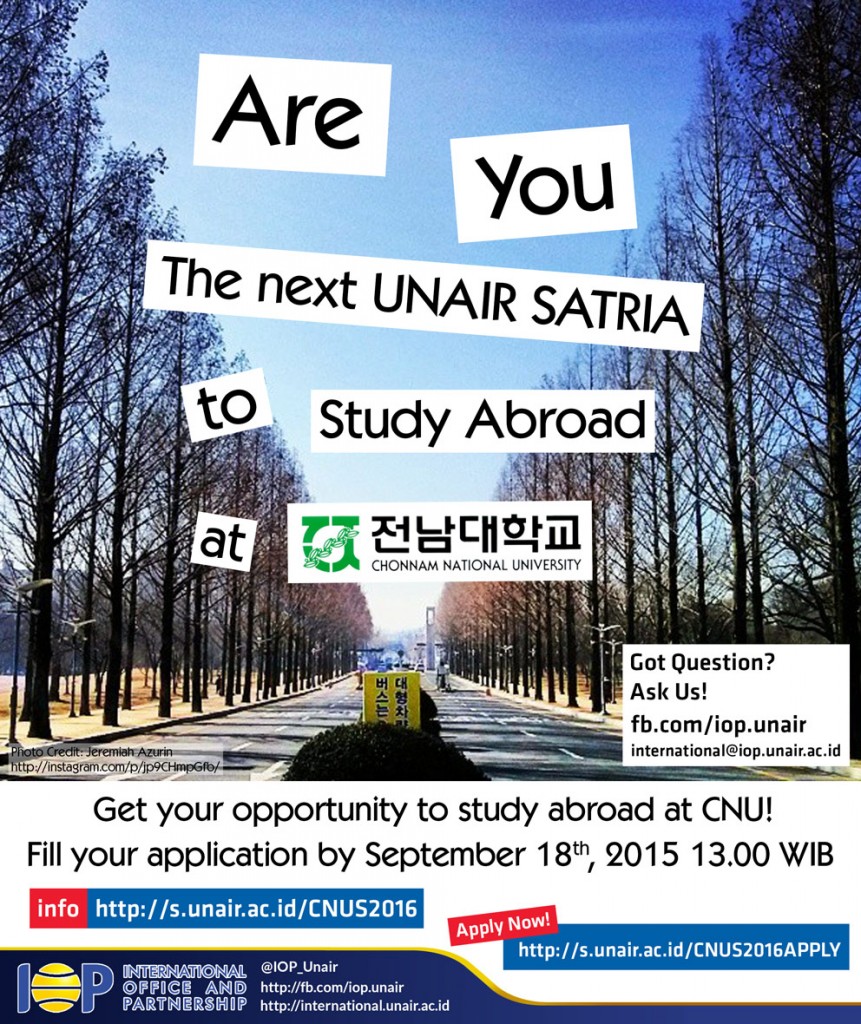 Study Abroad at Chonnam National University, Spring Semester 2016
Attachment: https://db.tt/lCTFuspp
Apply (by Friday, September 18th, 2015 13.00 WIB) : https://s.unair.ac.id/CNUS2016APPLY
Chonnam National University, South Korea offers the opportunity for Universitas Airlangga students to study at CNU for Spring semester 2016 ( February 29 – June 18, 2016 ).
As a partner university of CNU, UNAIR students are exempted of the following fees:
• Tuition Fee
• Korean Language Class from CNU Language Education Center
• Cultural trip
• Classes with English medium (Students without Korean language proficiency are welcome to apply)
However, the following are not covered in the program benefits:
• Roundtrip Airfare + Airport tax
• Dormitory Fee
• Visa fee
• Health Insurance
• Immigration Fee (Alien Card)
• Living Cost (Food, Etc.)
• Personal Expenses
Please refer to the fact sheet for more info : https://db.tt/lCTFuspp
Requirements to apply this program:
• Currently Enrolled at Universitas Airlangga Sophomore, Undergraduate Students (finished 1st year of study)
• Complete internal online Application form and agree with the mentioned condition. Internal online application to be completed by Monday, Friday, September 18th, 2015 13.00 WIB
• Students who are already have passport, and committed to departure are preferred
• Able to show English proficiency certificate (TOEFL ITP / iBT / IELTS / ELPT)
The selection team might call the applicants for further selection if necessary.
All personal information submitted are for selection purpose only.
Should you need question or further assistance regarding this program, please reach us via:
• Facebook Page Comment / message box
• Email us: international@iop.unair.ac.id
• Direct consultation during office hours upon confirmation
• Kindly confirm to us before visiting our office via Email, facebook message
• or, call us (Tel. 031-5966864 ext. 105 attn. Ms. Astria) during office hours (8 AM to 4 PM Mo-Fri)